ATLAS 2nd open call – Meet our Winners #1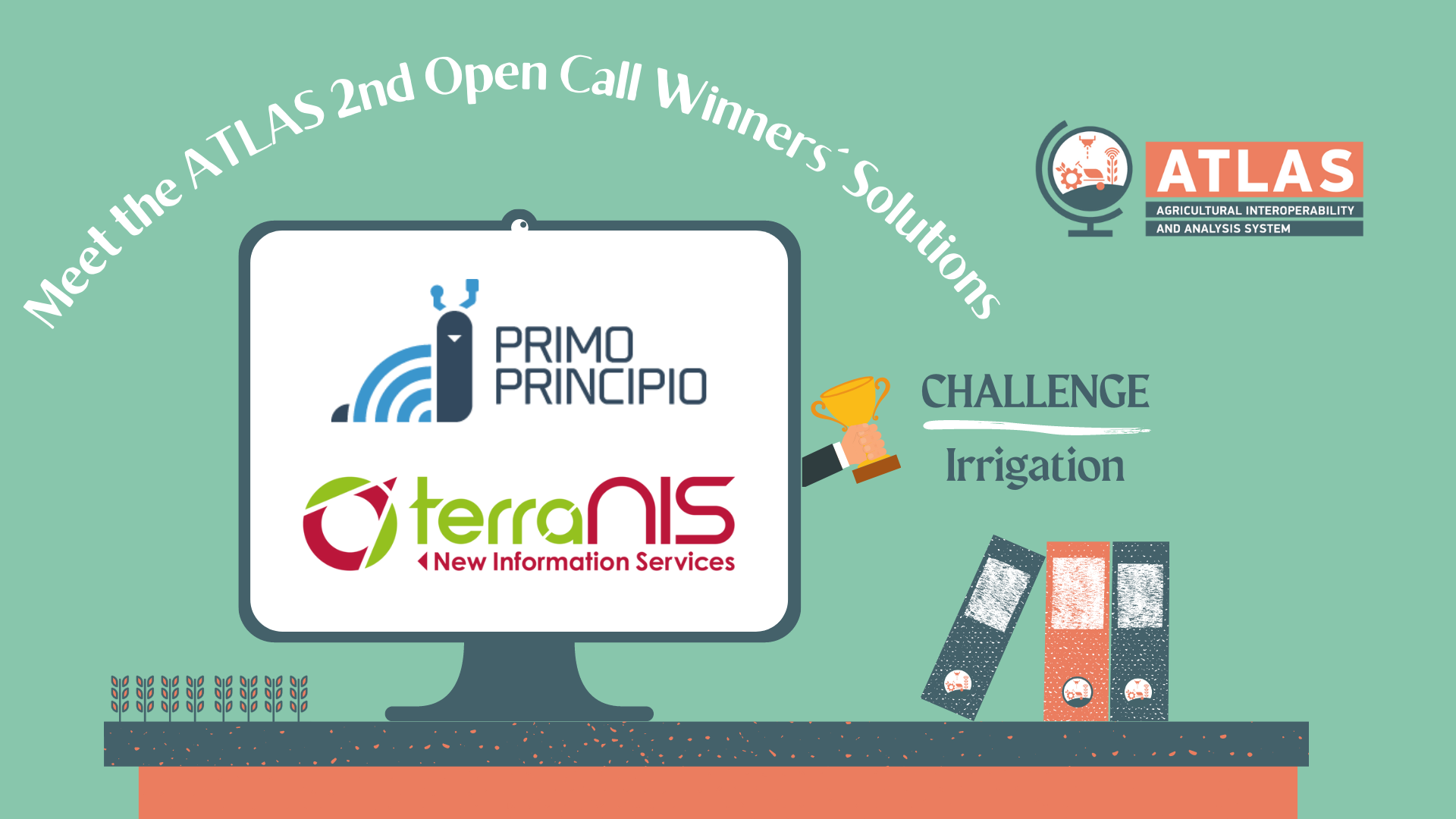 Could you imagine a service for irrigation optimisation based on Earth observation data, or a service that helps increase the understanding of irrigation dynamics in order to minimise waste and optimise the timing of the water supply?
We are happy to share with you that this is possible! The ATLAS Second Open Call Winners TerraNIS and Primo Principio are here to demonstrate how their innovative solutions, "WAGO" and "WiForAgri IRR", will contribute towards the ATLAS Interoperability Network by providing first-class data-driven services to tackle agricultural challenges related to irrigation. Find out more in the interview below conducted by Ms. Intza Balenciaga, Project Manager at AZO, with Mr. Clément Murgue, Head of the Agriculture Business at TerraNIS, and Mr. Andrea Galante, Project Manager at Primo Principio.


Please give us a sneak peek of your solutions: why are they relevant in agriculture and how did the idea emerge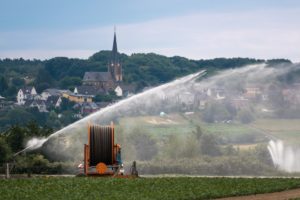 Mr. Clément Murgue: In the actual context of climate change, the water is a resource to preserve, especially in the agricultural sector. With a reliable irrigation scheduling service like WAGO, farmers can prevent under-watering or over-watering by providing the right amount of water to their crops. This will allow them to save time and capital, optimise yields, and better distribute this precious resource — especially in dry areas. The idea of developing WAGO comes from TerraNIS's desire to diversify its offer in the context of ecological transition. We want to help farmers optimise their agricultural practices. It is from this initiative that the partnership between TerraNIS and the French laboratory Cesbio was born. The laboratory was willing to industrialise its Research and Development (R&D) tool and, in 2018, it proposed a technology transfer, development, and marketing of its services. Irrigation has always posed great challenges to farmers in many forms, which is why we wanted to develop a decision support tool dedicated to irrigation optimisation. Thanks to satellite imagery and agrometeorological modelling, our solution provides a daily water status quo of the field and offers recommendations to prevent over- and under-watering crops. In addition, we developed an application programming interface (API), which facilitates the integration of external data, including weather data.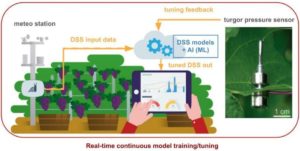 Mr. Andrea Galante: Smart irrigation is one of the most important challenges the world is facing today within the environmental and climate crisis. It is essential to have useful tools available to increase the understanding of irrigation dynamics in order to minimise waste and optimise the timing of the water supply. WiForAgri IRR was born from the experience of a multidisciplinary team made up of software developers, digital agronomists, and service designers, but also, and most importantly, from the interactions this technical team had with farmers, farmers' consortia and public agencies that deal with local and sustainable development. Since our company was founded in 2011, the goal has always been to offer digital services to rural areas, with a particular focus on wineries. We found ourselves working specifically on models simulating water needs within a research project in which we collaborated with a public research body for agriculture. We developed a first decision support system for irrigation management for them, and soon after, we found ourselves testing in real scenarios. After a few years of testing and feedback from end users (farms), we designed and developed WiForAgri IRR. This solution is here to solve irrigation management issues using digital and smart solutions. WiForAgri IRR combines mathematical modelling to simulate water needs and stress with the promising potential of artificial intelligence, the Internet of Things (IoT) and the Big Data paradigm. The goal is to obtain an extremely accurate decision support system in the field of irrigation management that is capable of self-calibrating based on the feedback it receives from the plant. The impact that this innovation intends to have on the agricultural sector is to deliver a simple and reliable service capable of offering a wide range of qualitative and quantitative benefits. These include saving water, preventing hydric stress and over-irrigation, assessing, and managing related pest and mycotoxin risks, and maximising yields in difficult production seasons to increase sustainability.

What has been your company's and/or solution's biggest challenge(s) thus far?
Mr. Clément Murgue: The biggest challenge was to start with a tool dedicated to research that was fully operational for different types of clients and commercial contexts. As a result, we redesigned WAGO so that it could be used by farmers as well as by agricultural cooperatives. We re-programmed the models on a cloud infrastructure and modified the website to offer something more ergonomic and easier to use. Moreover, we are now connected to the VERDE platform to access Airbus Defence and Space post-processing technologies on satellite imagery.
Mr. Andrea Galante: The most daunting challenge our company faces every day is designing and implementing digital services that are easily transferable and useful to all types of farms — not just for the largest, most structured ones. Our corporate philosophy is to offer digital solutions for everyone, especially rural areas, without imposing a rigid idea of technology, but instead to look for solutions together for and with the farmers. This is still the most difficult, yet most stimulating, challenge.

What opportunities will ATLAS offer your solution and/or company? How will this Interoperability Network help you develop and foster your business case?
Mr. Clément Murgue: The ATLAS Interoperability Network is a great opportunity to further develop the interoperability of our tool. It will allow WAGO to communicate with other AgTech services and data providers throughout Europe and increase its credibility in many different contexts. This will give us the chance to develop the tool outside France, extend our network and businesses, as well as create a bigger impact in the agricultural sector.
Mr. Andrea Galante: Interoperability is a fundamental opportunity ATLAS offers us to provide our services to as many farms as possible. Digital agriculture market is currently growing fast, with many standards and various technological offers. If we want to increase the speed of the entire agricultural field's transition towards a digital and sustainable paradigm, interoperability is the only option. In this sense, ATLAS plays a key role: not only in sharing our solution with a wider group of end users, but also by providing the technological and infrastructural foundations to scale up agricultural solutions globally, interconnecting with other service providers, sensors and/or devices.

What was/were the main reason(s) you decided to participate in the ATLAS Open Call 2021?
Mr. Clément Murgue: We wished to engage in the ATLAS community mainly to ensure we were capable of interacting with other IoT and Ag Tech companies in Europe and beyond. TerraNIS has been engaged in European B2B collaboration since its creation in 2014, particularly via the EUGENIUS network, and strives to offer innovative geospatial solutions to the agricultural and environmental sector throughout Europe. Our main observation of the Ag Tech market is that there are many solutions and not enough integration. We believe that the ATLAS Interoperability Network is one of the solutions to this problem. It will make it possible to share technical data-driven solutions with companies in a complementary way instead of competing with each other.
Mr. Andrea Galante: We decided to participate in ATLAS because we believe interoperability can represent the future of the data-driven services market for digital agriculture. We believe that having an interoperability standard is the main interest of all operators in the agricultural sector — from suppliers of sensors and services to end users. Thus, joining a European network of such calibre is an excellent opportunity for us to meet new partners and expand our services to new customers.

Finally, let's take a quick look into the crystal ball: What's going to happen with your company and/or solution in the future?
Mr. Clément Murgue: In the short term, we want to distribute WAGO across many platforms throughout Europe and upgrade it with new sources of information. The ATLAS Interoperability Network should allow us to ease the parametrisation of our tool by automatically offering data on crops, soil, and weather. In the long term, we hope to integrate more of our solutions into the ATLAS network. We have developed decision-making tools in the field of wine growing and we are currently developing solutions for orchards. Besides water management, we offer solutions for managing nitrogen and carbon, which can be (potentially) enriched with sensors and other tools.
Mr. Andrea Galante: Our goal is to be able to grow as a company whilst keeping our original spirit of offering technological solutions sustainably and taking care of society. We believe in a digital transition on a human scale and for a small farm. In the long run, we would like to offer the best, most advanced quality of services with the same spirit and vision as when we started.
Did you enjoy this interview?
Anyone interested in their innovative solutions can obtain initial
insights into the ATLAS Demo Day 2022 in November
or/and get in touch with them via email
at clement.murgue@terranis.fr and/or info@wiforagri.com.
Meanwhile, stay tuned for more upcoming interviews with the ATLAS 2021
Open Call Winners via the ATLAS mailing list or AZO's blog!