ATLAS's guests visiting the Gerovassiliou Estate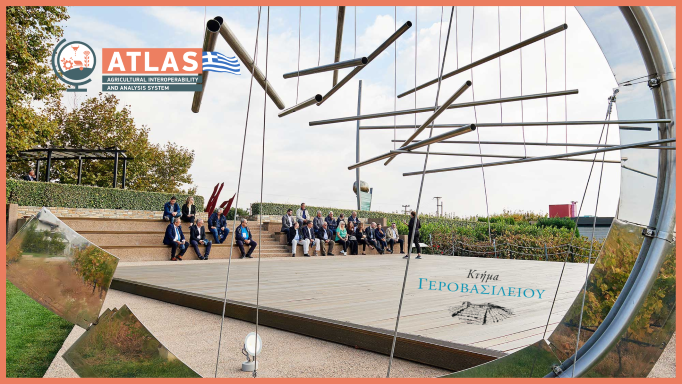 ATLAS project was presented in AGROTICA 2022 – Thessaloniki, the largest agriculture theme Fair in the Balkans, held on 20-23/10/2022. In the framework of the Fair, on Thursday October 21st, a very focused group of highly ranked and influential stakeholders and decision makers were hosted by Gerovassiliou Estate, where two critical pilot fields of the Hellenic Innovation Hub of our project are located.
The Managing Director of the Hellenic Agricultural Organisation Mr P. Chatzinikolaou, where the Soil and Water Resources Institute (SWRI) belongs to, welcomed our distinguished guests and explained how ATLAS is incorporated in the strategic planning of the Organisation, as a primary investment for the future of the european agriculture. Dr S. Rilling introduced the philosophy of ATLAS networking environment setting out the assets of interconnection to our platform. Dr A. Panagopoulos and Dr I. Keramitsoglou explained how our pilots at Gerovassiliou Estate facilitated the development and testing of the irrigation services that are an integral part of the ATLAS environment, pointing out the importance of collaboration with a demanding environment that seeks perfection, as the Estate is.
Next was a guided tour of the Estate, its infrastructure and its history overlooking the magnificent landscape of Epanomi and listening to the impressive accomplishments of what started up as a small vineyard to flourish nowadays to an important wine producing company that respects tradition and the environment, whist employing the state of the art science and technology has to offer. Mr Gerovassiliou himself induced our guests to the art and science of wine making. Visiting the Wine Museum was a unique experience for our guests that travelled through the time and enjoyed the impressively large and unique collection of bottle openers from all over the world.
Discussing over ATLAS's outcomes and projected use couldn't have been better than during sampling some of the highest quality etiquettes of the Estate offered in a small reception, thus concluding a mouthwatering still rather intuitive experience.