Innovation Hubs & linked Demo-Sites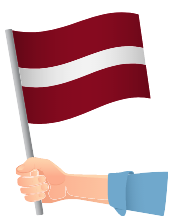 Latvia "LAA Experimental Fields"
Latvia Fruit growers association fields and orchards in project named "LAA Experimental Fields" are fields of members of both PP associations – LAA and ALOA, as well as scientific expertise provided by project partner LatHort. Furthermore there are approximately ten more farms that previously joined the local network, hosted by research institute "Agrihort" of Latvia University of Life Sciences and Technologies. The main activities to promote the use cases of practical farming and to ensure knowledge transfer are as follows:
Demonstration days at the test fields (Innovation Hubs)
Field days organized by LatHort at least once per year
Agricultural exhibition in Latvia at least once per year https://aml-ramava.lv/en/pasakumi/
National conference on Horticulture
National and international scientific conferences
Special sections in organizations web sites
Special section and additional information in Demo Farms section in the website of LatHort Technology Transfer Centre https://fruittechcentre.eu and https://fruittechcentre.eu/en/demo-network , where Innovation Hubs will be included.
Use cases & Testing
Innovation Hub (IH) structure in Latvia will include administrative resources of Project Partner Latvia Fruit growers association (PP LAA), PP Association of Latvian Organic Agriculture (ALOA), PP Institute of Horticulture (LatHort) and 20 farms with installed IoT sensors. Full information about farms dislocation and installed equipment possible to see at specially created Latvia IH information site.
Map of location of DEMO farms for IH use cases (green points in the map)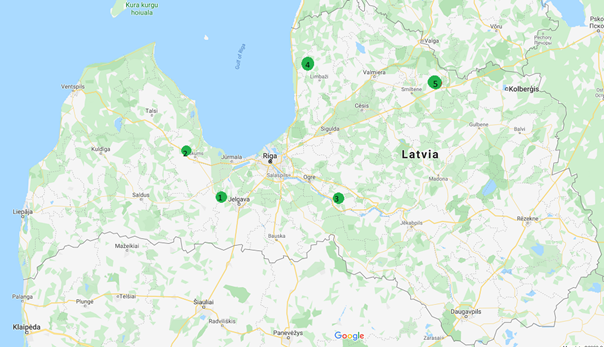 Use cases will be operated in 3 main operational areas – Orchards(1), Vegetable fields(2) and Bee farms(3). Activities along Use cases will be based on use of IoT sensors,  hyperspectral imaging and LIDAR. The following use cases will be in Latvia:
Plant protection
Irrigation
Planting
Crop monitoring
Bees monitoring
All use cases will be applied based on the Use case plan below. In the climatic zone of the Baltic region active vegetation starts from March and continue till November. Use cases Plant protection, Irrigation, Planting activity time follows region vegetation period. Same time Use cases Crop monitoring and Bees monitoring will be active all year.
Use cases by categories in 5 ATLAS demo farms in Latvia
Nr. (Green points Nr. in Fig.1.)
Farm name
Short description
Categories for use cases
Full information (web link)
1

Melnāoga

 

Cultivated nigh bush blueberries, more than 70 Ha, swampy terrain in middle of country
Berries
http://www.zdsoft.lv/zdsoft/atlas/melna-oga/
2

Eglāji

Apple orchards, 12 Ha, hilly terrain about 8 km of sea coast (gulf of Riga) – maritime climate
Fruits
http://www.zdsoft.lv/zdsoft/atlas/eglaji/
3

Puteņi

Organic fruits, vegetables and honey bee farm, round 20 Ha, flat terrain near river Daugava (biggest Latvia river) in middle of country
Fruits, Berries, Vegetables and Bees
http://www.zdsoft.lv/zdsoft/atlas/manguli/
4
Krogzeme
Organic black currant, apple and sea-buckthorn, totally around 56 Ha , flat terrain near coastal area (gulf of Riga), north of country, maritime climate
Berries (organic)
http://www.zdsoft.lv/zdsoft/atlas/krogzeme/
5
Very berry
Cultivated cranberry, blueberry, raspberry plantations, 38Ha , swampy terrain in north east part of country with continental climate
Berries
http://www.zdsoft.lv/zdsoft/atlas/very-berry/
Activity Plan Innovation Hub Latvia along the use cases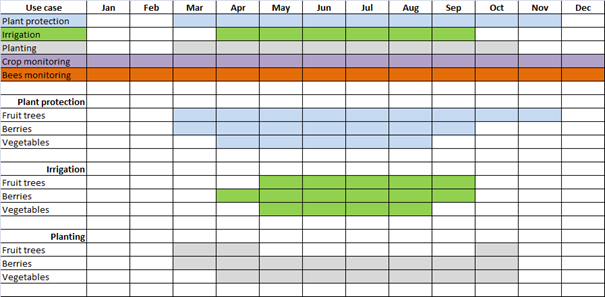 ALOA
| | |
| --- | --- |
| Use Case | Targeted application |
| Sensors & Machines used | Hyperspectral Imaging, LIDAR, IoT temperature / humidity sensors |
| Indicators measured | Amounts off applicants against fungus and other diseases used. |
LAA Experimental Fields
Use Case

Plant protection, Irrigation, Planting, Crop monitoring, Bees monitoring

Sensors & Machines used

Set of IoT sensors

Base weather station (temperature, wind speed/ direction, pressure, humidity, wapour)
Independent sensors on field – Solar radiation, UV radiation, Leaf wetness, Soil moisture, Photosynthetically Active Radiation (PAR), CO2,  on-field Temperature-Humidity Sensor with Radiation Shield

Indicators measured


Influence of environmental conditions on plant development in comparative studies.
Amounts off applicants against fungus and other diseases need.
Fertilization effectiveness in comparative studies.
Amount of input products needed.
Amount of product needed in comparative studies.
Irrigation effectiveness
Stakeholder Involvement
Information exchange, knowledge transfer activities and results of ATLAS will be delivered to the stakeholders through leading farmers' organizations and associations. Stakeholders are divided in 2 main groups: 
Direct stakeholders
Indirect stakeholders
Direct Stakeholders
Description
Farmers
In Latvia there are round 70.000 agricultural holdings and land area owners who are or will be connected to agriculture. Any of them can be positional user of  ATLAS results.
Latvian Agricultural Organization Cooperation Council (LAOCC)
National level farmer's umbrella organization is a member of different international farmer's organizations including COPA-COGECA.
Farmers NGO's
Approximately 60 national level branch and horizontal farmers organizations, joining together round 8000 farmers.
Latvian Rural Advisory and Training Centre (LLKC).
The leading organization of consultancy services related to rural development in Latvia. Provides advice and services related to industry's production processes, accounting, and business planning to rural entrepreneurs, organizations, and population, as well as to undertake studies, educate, and inform.
Latvia University of Life Sciences and Technologies (LLU)
Latvia University of Life Sciences and Technologies is one of the leading universities of science and technologies in the Baltic Sea region, specializing in the sustainable use of natural resources aimed at the enhancement of quality of life for society.
Indirect Stakeholders

IT companies and startups . Small- medium size IT companies , specially startups can be interested in ATLAS open calls.
Agriculture Related Industries Commerce and Services.
Media and Media Professionals.
Public authorities.
Peer Projects. ATLAS can supplement  some of benefits from Interreg Baltic Sea region and LIFE program projects.
Wild public interested in technologies or smart agriculture.