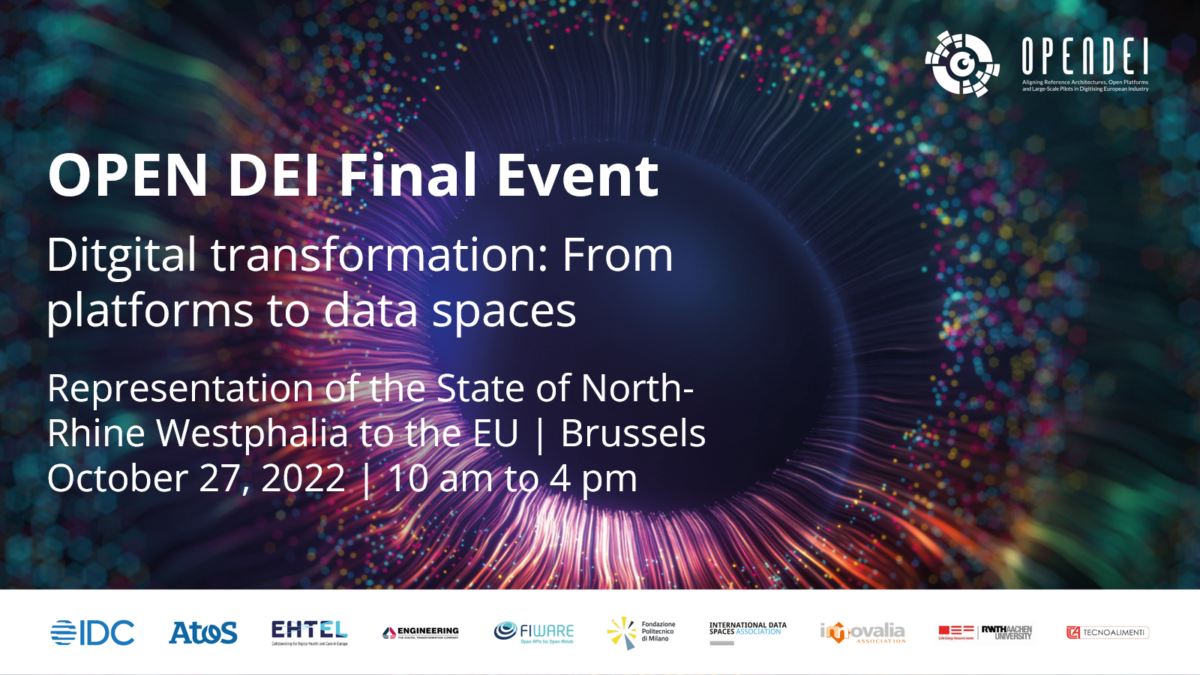 The OPEN DEI final event will take place on Thursday, 27 October 2022 (10:00-16:00) in Brussels at Representation of the State of North Rhine-Westphalia, with the participation of the European Commission and some projects.
The project deals with issues related to Digital transformation in four domains/sectors (Agrifood, Manufacturing, Health&Care, Energy). The final event is the perfect opportunity to look at the project's results, which form an important basis for a fair data economy and the deployment of the EU strategy for digitalization. The final event will demonstrate the milestones achieved by the entire OPEN DEI community and will initiate interesting discussions on the topic of digital transformation.
What's in for you?
Intensive panel discussion on challenges and opportunities in the four OPEN DEI domains: Manufacturing, agriculture, energy, and healthcare.
Inspiring keynotes on digital platforms, data spaces, DSSC and digital transformation.
Knowledge corners on the results of large scale pilots and digital maturity models.
In-depth presentations of the key enablers for supporting companies on digital transformation like data spaces building blocks and standardized architectures for interoperability.
For attending in person, register here. To connect remotely, the event will be live streamed via YouTube channel of OPEN DEI.
The outcomes of the project and the final event will be a last missing gift: a strategic roadmap for digital transformation, data spaces and a recommendation how to move forward.