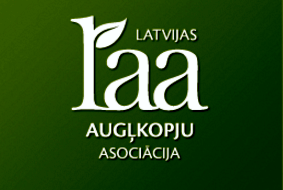 LATVIA FRUIT GROWERS ASSOCIATION, NGO
Fruitgrowers professional association (LATVIJAS AUGLKOPJU ASOCIACIJA) and NGO, as of today joining more than 80% of Latvia commercial fruit growers. Established 1998. Member of Latvian Agricultural Organization Cooperation Council (LAOCC) since 2001. Regular participant in Copa / Cogeca meetings since 2005.
Participated in multiple Latvia state and international projects as partner or leading partner. The largest one where LAA acts as leading partner was "Fruit forth health ", finished 2012 with budget 990920 EUR. Currently participate as partner in Interreg Baltic Sea region project "Advancement of non-technological innovation performance and innovation capacity in fruit growing and processing sector in selected Baltic Sea Region countries" (InnoFruit) with total budget 1.5 milj. EUR and few state projects connected with education and scientific research in fruit growing.
For more details visit their website.
ROLE WITHIN THE PROJECT: LAA will contribute to the establishment and operation of the pilot use case related to targeted application in the premises of their associated orchards. LAA will continuously give feedback about the results and operation accommodate visits of interested farmers, thus acting as a true demonstration field.