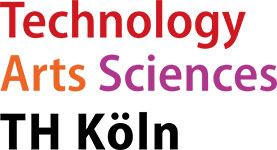 TH KÖLN – UNIVERSITY OF APPLIED SCIENCES
With approximately 25,000 students studying in 90 majors, who are instructed by 430 Professors', the TH Köln – University of Applied Sciences (TECHNISCHE HOCHSCHULE KOLN) is the largest University of Applied Sciences in Germany. Aside from the variety of majors offered and high quality course offerings and research spectrum, the University of Applied Sciences in Cologne is a sought after business contact beyond the borders of Germany and fosters many international connections within and outside of the country. The Institute of Construction Machinery and Agricultural Engineering is incorporated in the Faculty of Process Engineering, Energy and Mechanical Systems. With 6 Professors, 7 associate lecturers and 24 associates in instruction and research, numerous research projects are completed each year, partially in cooperation with industry sponsors.
The Cologne Centre for Construction Machinery, a research group lead by Professor Alfred Ulrich, has successfully completed over fourteen research projects (since 2006) and is currently working on seven other projects. Through their work within these projects, associates have gained an expertise in the areas of process engineering, production processes and sub-processes and measurement systems among others. Additionally, they have extensive experience in various simulation software packages (e.g. SolidWorks incl. COSMOS, ITI Simulation X, Matlab Simulink, EDEM Simulation, etc.). Through cooperation with companies, all research projects are focused on developing a physical product for the market. The collaboration with some of the companies is based on past cooperation and has been very successful.
For more details visit their website.
---
ROLE WITHIN THE PROJECT: IBL will be involved in all activities of WP5 related to the design and development of hardware systems to build the multi-sensor system and connect it to different machines. With their expertise in electro-mechanical engineering and control technology for agricultural machinery, they will contribute in all testing activities related to trafficability. IBL will furthermore contribute to the pilot studies and standardization activities.